'The Voice Dialogue Video/Audio Series'
( 12 Videos & 8 Audios )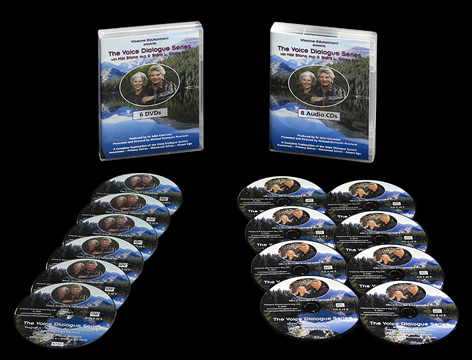 The Voice Dialogue Series
DVD/CD VERSION
6 DVDs ( contain the 12 video programs )
& 8 bonus audio CDs
plus
free worldwide postage

Now yours for just US $147 
(Normally US$335, Save $188)

The Voice Dialogue Series
DIGITAL VERSION
12 videos and 8 audios can be instantly
streamed online and downloaded.

US $147 instant online access
(Was US$295, Save $148)


You will be directed to 'Vimeo', to pay via PayPal, credit or debit card, & instantly access the videos & audios. (Note: Click on the 'BUY all' button, which may display the US$147 in your local currency)

Phone:

Outside Australia + 61 408 614 849 (Australian Eastern Standard Time 9.30am-4.30pm Mon-Fri)
Within Australia 0408 614 849 (9.30am-4.30pm Mon-Fri)

12 Video recordings
| | | | |
| --- | --- | --- | --- |
| | Video 1 | Introduction to Subpersonalities | 11 min's |
| | Video 2 | Primary Selves | 61 min's |
| | Video 3 | Disowned Selves and the Effect of the Subpersonalities on Health | 63 min's |
| | Video 4 | A New Vision of Consciousness | 55 min's |
| | Video 5 | Relationships and Bonding Patterns 1 | 58 min's |
| | Video 6 | Relationships and Bonding Patterns 2 | 71 min's |
| | Video 7 | Dreams | 58 min's |
| | Video 8 | The Origins, Benefits and How to do Voice Dialogue | 70 min's |
| | Video 9 | Voice Dialogue Demonstrations 1 | 54 min's |
| | Video 10 | Voice Dialogue Demonstrations 2 | 53 min's |
| | Video 11 | Voice Dialogue Demonstrations 3 – Relationships | 52 min's |
| | Video 12 | Voice Dialogue Demonstrations 4 – Dreams | 45 min's |

8 Audio recordings 
The audios contain different material to the Videos, explaining Your Major Primary & Disowned Selves
Subpersonalities Covered
| | | | |
| --- | --- | --- | --- |
| | Rule Maker / Rebel | | Special / Ordinary |
| | Observer / Spontaneous | | Spiritual / Earthly |
| | Mind / Feelings | | Patriarch / Matriarch |
| | Control / Release | | Sensuality and Sexuality |
| | Pleaser / Selfish | | Psychological Knower |
| | What will people think | | Independent / Dependent |
| | Pusher / Being | | Invisible / Spacer / Chameleon |
| | Perfectionist / Slob | | Responsible Parent |
| | Power / Vulnerability | | Jungle / Victim |
| | Personal / Impersonal | | Abuser / Abusee |
| | Critic / inner Teacher | | Inner Children |
Dream Explanation
Included in this Audio series is an in depth description of the many different themes and levels of dreams. You will discover how your subpersonalities appear in dreams to balance and guide your life, once you learn to interpret their meaning.
| | |
| --- | --- |
| | Themes and Symbols in dreams |
| | Disowned selves in dreams |
| | Illness as a teacher |
| | Mythic and Archetypal dreams |
.
.
.
Copyright and Licence Agreements
The Voice Dialogue Series is for private, personal use at home. It may not be edited, copied or duplicated, nor broadcast in whole or part in any way without the prior written permission of Wiseone Edutainment Pty Ltd.
Commercial, educational, institutional, company use or performance in public requires a licence agreement. Licence agreements and prices can be obtained in writing from Wiseone Edutainment Pty Ltd, PO Box 25, Rose Bay NSW 2029, Australia, email: jcoroneos(AT)bigpond.com (Replace (AT) with @)
Distribution of the Voice Dialogue Series We are making available the opportunity to become a distributor of The Voice Dialogue Series, and to on-sell the package to others. If you would like to take advantage of this offer, please contact Wiseone Edutainment Pty Ltd, PO Box 25, Rose Bay NSW 2029, Australia. Email: jcoroneos(AT)bigpond.com  (Replace (AT) with @)